Navigating by Intuition shows you the steps to take to get the guidance you need—when you need it.
Have you ever asked for divine guidance when making difficult decisions in your life?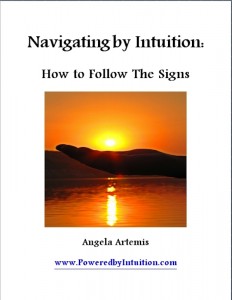 Have you wished for a sign to appear that would tell you if you were on the right path or not? If so, this book is for you.
You will learn how to "follow" the signs and how to ask for a sign to appear. Now you need never feel alone and afraid when making decisions again.
When you learn to "navigate by intuition" and "follow the signs," your life will flow with ease. And, you will be directed to your highest good in all situations.
Start living your best life now. Learn to navigate by intuition and follow the signs toward all the joy, abundance and success you deserve.
Following your intuition makes life easier
There are three components to "following the signs."
The first one is to become aware of the signs.
The second component is to learn to interpret the signs.
And, last is to ask for signs directly.
Navigating by Intuition: How to Follow The Signs lays out this process through examples that make it easy to apply to your own life.
Don't live in dark. Turn on your intuition power and illuminate the path you were meant to be on in this life.
Move toward your highest good and actualize your full potential.
Allow the Universe to guide you in difficult times and in good times
One closely guarded secret is that of using synchronicity and serendipity to guide your life.
Learn this secret now and how to apply it in your own life.
Use the principle of "fortunate coincidences" to calculate whether your life is moving in the right direction.
Pick up your copy of: Navigating by Intuition: How to Follow The Signs and allow the Universe to guide you to live the life you've always dreamed of.
Watch the book trailer: