Holiday Offer on Navigating by Intuition
Just in time for the holiday, pricing on Navigating by Intuition is going to down to just 99 cents.
The book will teach you how the Universe communicates to you through "signs" to guide you when  you need it most.
If you have ever asked for divine guidance when going through turbulent times in your life, then this book is for you. Take advantage of this holiday offer on Navigating by Intuition.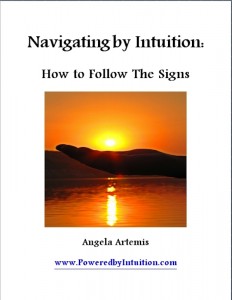 Who wouldn't want guidance when their life feels out of control? If you've ever felt this way then you'll find the complete set of directions to getting your life back on track in Navigating by Intuition – How to Follow The Signs.
Are you aware that the Greater Intelligence that is behind every creation in the Universe wants to help you?
This intelligence is only too willing to speak to you but, you've got to understand the "language" it speaks. Humans use words to communicate but the Universe doesn't. This intelligence speaks the universal language of "signs" to send you important information on how to make the best of your life. If you're not aware of the signs, or able to understand them, you're missing out on the most valuable guidance there is.
When you learn to "follow the signs" that this intelligence sends you your life will take a turn for the better. You will meet with success after success–no more brick walls. The reason for this is because you're following the path that you were meant to be on in this life. You have a purpose and a destiny but to discover it you need to learn how to decode the guidance you are being sent by Greater Intelligence.
Once you begin following these signs your life will be on the path that takes you straight to your highest good and your greatest potential will be realized. You'll stand out and apart from others as you make right decision after right decision. Everyone will wonder what your "secret" is? You can tell them that your secret is that you know how to "speak intuition."
Don't you want live your best life right now? You can once you learn to Navigate by Intuition and follow the signs.
Listening to your intuition puts you in the flow of life



Pick up your copy of: Navigating by Intuition: How to Follow The Signs and let the Greater Intelligence that created the entire Universe guide you to start living the life of your dreams right now, today.
Watch the book trailer:

No Kindle? No problem. Kindles have come down in price. Now you can get yours for just $79.
Take advantage of the holiday offer on Navigating by Intuition and pick up your copy today.
The 99 cent pricing won't last forever!