Looking for Amazon 100 Top Paid Kindle Books on intuition?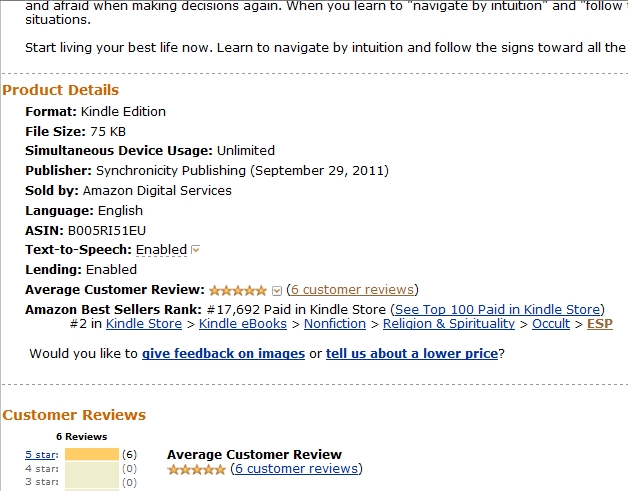 Navigating by Intuition How to Follow the Signs is an Amazon 100 Top Paid Kindle Store Book.
Synchronicity Publishing is proud to announce that this title is among the top 5 books in its category of Occult/ESP.

The book is a unique new approach to following your intuition.
No practice or exercises of any kind are required.
Once you learn this method you will never have to pay for a professional reading anywhere again.
You will become your own adviser.
This method was devised by author, Angela Artemis. She spells out the easy steps to hearing the guidance that the Universe is sending you and how to ask for answers directly – and get them almost immediately. Having spent her own life struggling to hear her intuition Ms. Artemis came up with this easy solution that anyone can follow. It was only after she learned to decode the language of intuition that her own life turned around. Before that everything was a struggle and knowing which were the right decisions to make to move in the right direction was often difficult.
Within minutes of reading this book you will know how to "follow the signs" the Universe is sending you. The Universe is always communicating with us whether we know it or not. It's up to us to learn this "secret language" though. Once we learn it there is nothing the Universe will not inform us of if we ask.
Are you struggling with big questions in your life? This book has the answers. Don't spend any more time worrying  about a solution. The solutions are within your grasp! Just reach out and read this book to see how easy it is to get the answers and direction you desire for your life now.
Available on Amazon Kindle for immediate download.
Related articles